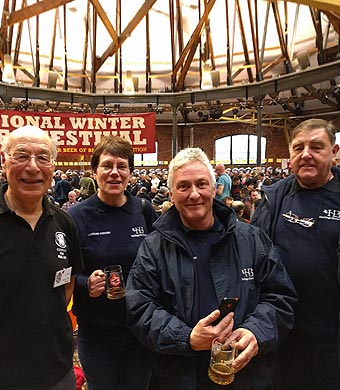 NATIONAL WINTER ALES FESTIVAL
The National Winter Ales Festival took place at the wonderful roundhouse in Derby, very close to the home of The Heritage Brewing Company in Burton upon Trent.
Visitor numbers were the highest in the history of the event, which, ultimately proved its downfall in that the roundhouse is now not deemed big enough to host the event and it next year will be held in Norwich. Heritage Brewing Company exhibited 2 beers at the festival: Charrington IPA and Offilers Derby Best Bitter, which was appropriate given the festival location. Pictured are some of the Heritage Brewing team along with our CAMRA BLO Jim Ward.