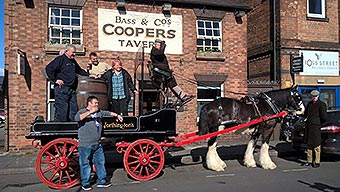 APRIL FOOL'S DAY DELIVERY
Heritage Brewing Company decided to have a bit of fun on April fool's day, delivering a GIANT barrel of beer to the Coopers tavern in Burton upon Trent.
To add authenticity the delivery, the brewers borrowed the vintage horse pulled dray from the National Brewery Centre which was pulled by one of the extremely popular dray horses housed at the museum.
The spoof generated some publicity with an article in the Burton Mail.