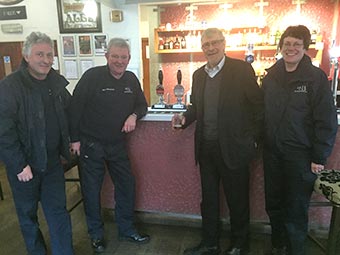 ROGER PROTZ VISITS HERITAGE BREWING COMPANY
Legendary beer writer Roger Protz paid a visit to the Heritage Brewing Company, had a tour of the facilities and was duly impressed.
Roger has been a regular visitor to the National Brewery Centre over the years and was delighted that brewing has been reinstated in the William Worthington Brewery with a total commitment to quality and an attention to detail. Roger Protz and master brewer Steve Wellington go back a long way, not least due to Steve's role as the saviour of Worthington White Shield.
The team retired to the Brewery Tap to test the product which, of course, met with approval.